Corrs expands Legal Technology Solutions Group (LTS)
Law firm Corrs Chambers Westgarth has made two senior appointments to enhance its Legal Technology Solutions Group (LTS) offering e-discovery and forensic technology investigation services.
Maureen Duffy, formerly with Orbit, is an international e-discovery lawyer, admitted to practice law in both Australia and the US, with extensive experience in complex disputes. Maureen joins Corrs as head of LTS in Melbourne.
Harvinder Singh comes to Corrs from Korda Mentha, where he was a manager in the forensic technology group. He brings deep e-discovery and forensic experience to his new role as head of LTS in Corrs' Perth office.
"Both Maureen and Harvinder bring a unique combination of legal, technical and leadership expertise which enables them to analyse and plan the most appropriate approach to evidence collection, discovery, evidence management and trial support, resulting in commercial success for the firm's clients," said Brian Borskjaer, Director of the LTS Group.
Maureen has rich expertise across law and technology from her time at a top-tier international law firm where she worked in several roles for its alternative legal services provider, including Asia & Australia Deputy Head of Disputes, Senior Manager of eDiscovery and National Practice Co-ordinator.
"Harvinder has an extensive background in e-discovery but we are also excited that he will bring forensic technology qualifications and skills to our Perth office where he will work with our National Forensic Technology Manager Phil Magness, and our Perth partners and lawyers, to develop this offering for the market," Brian said.
Harvinder's career has included stints as an officer in the Royal Australian Navy and as an analyst and developer in the IT industry. In 2009 he made a career change to qualify as a lawyer and worked in the e-discovery and forensic technology since 2010, firstly with a top-tier international law firm and more recently with Korda Mentha.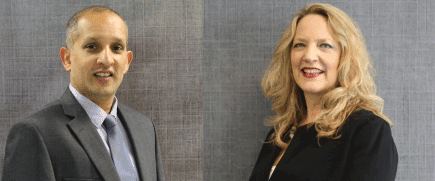 Harvinder Singh, head of LTS in Corrs' Perth office and Maureen Duffy, head of LTS in Melbourne.
Another new arrival at the Corrs LTS Group will be Dan Walker, a Senior Technical Analyst who has spent more than a decade with other top tier firms providing legal technology and systems solutions.  Dan will, in particular, add further strength to the team's capabilities in the areas of cloud computing and AI technologies.
LTS at Corrs uses a wide range of cutting-edge software tools and technology services in the areas of discovery and case preparation, the establishment and ongoing management of data rooms, as well as general paralegal services including secondments. The team has the resources and expertise to manage every documentation facet of the litigation process, from the collection and exchange of discoverable materials to managing pleadings, witness bundles, chronologies, discovery lists and court transcripts.
The Group provides cost-effective litigation support that takes care of the mechanics of the litigation process, enabling legal teams to perform a superior analysis of a matter and achieve a more comprehensive understanding of the document groups.
http://www.corrs.com.au/careers/legal-support-services/legal-technology-solutions/