When artificial intelligence meets business process management
Friday, October 20, 2017 - 11:19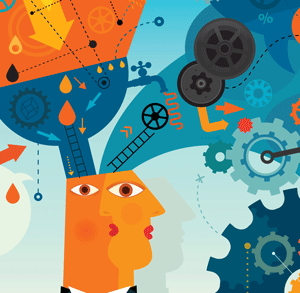 There's a lot of discussion among IT professionals about what digital transformation actually is. From my perspective as a business process management expert, digital transformation results from applications that provide better user experiences for customers and employees.
State-of-the-art user interfaces, combined with streamlined backend operations, enable improved business efficiency, smoother processes, faster reaction to market changes, and better adaptation to rapidly changing business environments.
As business process-based applications get more sophisticated, however, the effect of delays--or blocked processes--remains a problem. Therefore, I've spent a good amount of effort looking at how to manage these blockages and delays.
Delays are typically due to resource unavailability, peak workload, and external dependencies, but operations managers have a good toolset (for example, monitoring dashboards provide visibility) to identify and pinpoint blockages. And with tools in the application platform that allow tinkering with live apps, managers can make fast corrections and workarounds in real time.
But recent strides in artificial intelligence are making it possible to anticipate future constraints and align them with available resources–that is, to become proactive rather than reactive--and avoid the bottlenecks altogether.
Application of AI technologies allows process-flow pattern detection and process and business metrics predictions--guiding corrective actions and updates of running applications. With AI, applications can analyse their own historical patterns and signal future constraints that are not easily perceived by a human observer.
Here's how it would work.
A process-based application platform is connected to an external data warehouse to extract raw data from applications. Because the BPM application platform is generic, the type of data to be analysed isn't known in advance.
The actual data from a specific set of processes on a specific platform is be prepared in situ to be correctly interpreted by the appropriate algorithm, selected from a set provided.
When we apply AI to BPM, we extract patterns imposed by the process execution flow to develop predictions. The platform can then build a predictive model and identify blockage points.
For example, we would query the applications to predict when a particular task is going to be completed, or when a particular end-to-end process will be completed.
Say that a retail bank needs to process, analyse and approve loan applications within a specific time frame. With a process-based application, the loan manager could monitor loan requests and be alerted when the predictive function detects that a specific loan request may not be on time, based on historical and current data about loan request execution time.
The platform can propose and suggest alternative action for the immediate term, perhaps to pull in another loan officer or other resource. Further, if the system detects a delay, the manager may choose to make changes to the process itself.
Toward a Trustworthy AI
Business processes are still human-centric, and managers quite rightly aren't ready to rely on artificial intelligence to make business decisions for them.
Right now, a combination of structured data, data mining, machine learning, and intelligent algorithms, can support human decisions. We apply AI to present information – data, reasons for issues, risk assessment – and offer suggestions for action.
The platform monitoring functions can show us what happens in the process when a suggested action is taken, helping to validate whether the decision is a good one.
Artificial Intelligence and business process management together offers a better understanding of business processes as they are happening, plus a view to the future, with better, smoother operations from start to finish.
But looking further into the future, perhaps some decisions may be delegated solely to AI. Intelligent continuous improvement will produce better and better predictions, risk identification, and recommendations for actions, and managers and team leaders will ultimately trust the recommendations--and their results.
Miguel Valdés Faura is chief executive officer and co-founder of Bonitasoft. Bonita BPM is an open-source business process management and workflow suite created in 2001. https://bonitasoft.com/