How Information Management Trends Impact Transportation and Logistics
Thursday, November 2, 2017 - 16:24
The transportation and logistics industry is undergoing a fundamental transformation as a consequence of increasing customer expectations, innovative use and adoption of new technologies and the explosion of data and devices. The growing importance of data coupled with the need to have real-time information on the state of the business has become the biggest challenge for the industry.
The new information management paradigm requires industry executives to capitalise on the ongoing wave of digital transformation in order to provide value-added services to customers and streamline business processes. Despite digital disruption's potential to overturn incumbents, digital transformation provides significant opportunities for accessing, extracting and understanding data and putting the data we know into action.
For transportation and logistics companies, innovative application of information management can offer ample opportunities. At ABBYY, we have been successfully assisting T&L companies in ANZ and around the world through this process, helping them reap immediate benefits without delays or extra costs. We have worked with businesses ranging from small private operations to the largest global T&L companies. Here is what we have learned.
Digitisation as data enabler and accelerator
To succeed in today's data-driven, real-time economy, transportation and logistics companies require quick access to data. Digitisation of core transportation and logistics processes enables integration of data from different sources with different formats and improves the accessibility of meaningful data in the desired format.
Digitising back office processes and automating back offices, for instance, leads to cost savings on levels such as document management systems and information management. Moreover, back office digitisation removes the inevitable costs of manual labour and paper-based processes such as track and trace, gathering freight bill information, managing custom forms, or securing proofs of delivery.
IoT enhances supply chain efficiency
Speed and timing remain the key drivers of change in transportation and logistics. IoT technologies allow carriers to transmit vital stats, such as temperature, location, and power supply via satellite.
According to the Global Connected Logistics Market 2016-2020 research, "the use of advanced IT solutions such as Internet of Things, Big Data analytics, cloud computing, and remote temperature monitoring systems have revamped logistics services." By having this information sent to the cloud and analysed at a central office, carriers have realtime information as issues develop that also leads to increased safety for port staff.
Transparency across the supply base
Automation along with standardisation of the structure and content of data interchanges is key to achieving end-to-end supply chain visibility, speeding up processes, and digitising value chains.
Fragmented visibility due to paper-based proof of delivery (POD) documents, missed shipping dates, expediting issues, and other bottlenecks can play a role in driving up costs and disappointing customers. Having better visibility into processes can improve shipment times and minimise supply chain disruption while enabling managers to monitor shipments and respond with greater speed and agility.
Managing risks of longer and more variable supply chains
As supply chains face increased challenges from geopolitical tensions to technological risks and new economic crises, the potentials for supply chain disruptions are greater than ever before. Innovative information management should help supply functions cope with these challenges, both in planning and designing supply chain operations, and in the movement of goods.  Having access to global information and applying it locally is a critical asset to minimising crises.
Transformation of the last mile
The growth in the number of on-demand services is impacting the T&L industry, rendering the last mile more fragmented. The ubiquity of autonomous vehicles, networks of sensors, warehouse management software, drones, and intelligent robots appear to contribute to the complexity.
Cloud platforms and crowd sharing startups are also collaborating with incumbents to complement their services. These disruptions to the last mile as we knew it require speed in accessing accurate information.
Gaining insights through analytics
The huge amounts of data resulting from new technologies, mobile and cloud computing and adoption of GPS, RFID tags, sensors, scanners have made collaborative business intelligence (BI) an attractive proposition for transportation and logistics companies.
Data analytics provides powerful means of gaining foresight and delivering it swiftly for efficient and effective decision making. T&L companies can use analytics to better understand their digital initiatives, business processes, and customers' challenges and transform that data to anticipate future needs and expand value to customers.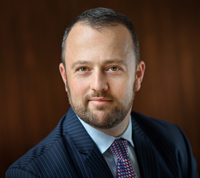 Henry Patishman is Director of Sales for Australasia at ABBYY.
Request further information - Article